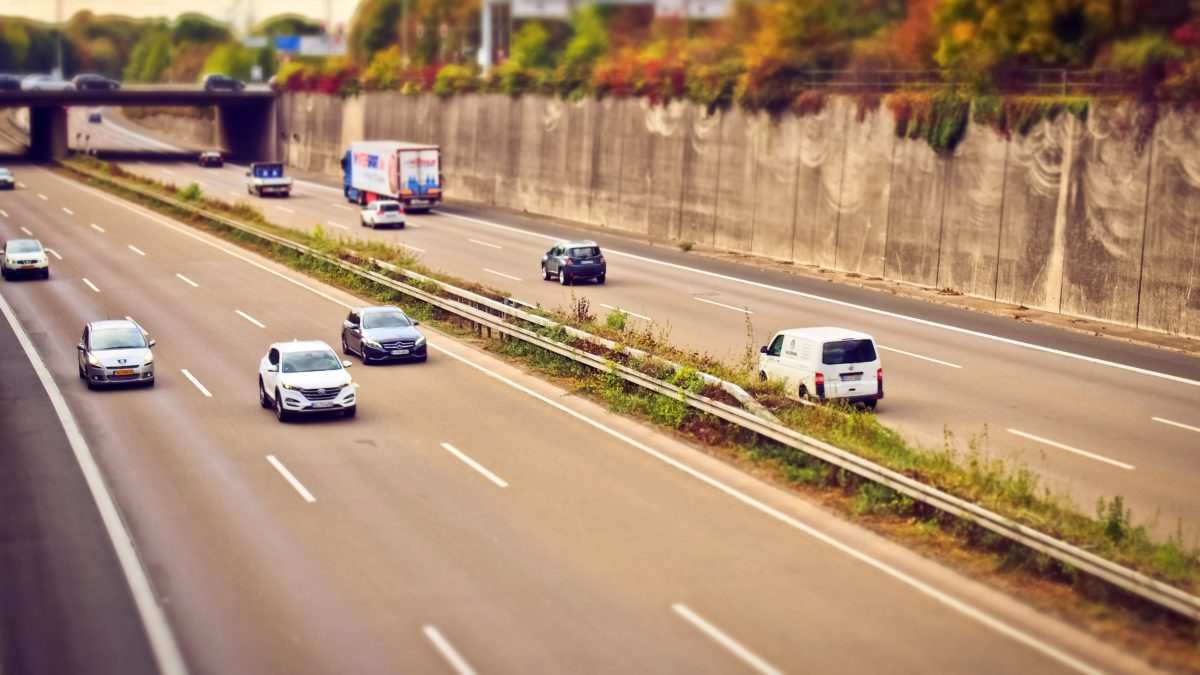 What are Driverless Vehicles?
Understanding the Levels of Automation
To understand what driverless vehicles are, you must first understand the levels of automation that exist today. According to the SAE, there are six levels of driving automation.
Levels 0 – 2 require a driver when support features are engaged. These features include limited warnings and momentary assistance, such as blind-spot warnings, lane departure warnings, and automatic emergency braking. Despite the support capabilities within these vehicles, it is necessary for drivers to steer, brake, or accelerate as needed to maintain safety.
Levels 3 – 5, on the other hand, do not require a driver when automated driving features are engaged. Level 3 and Level 4 automated driving features can, under limited conditions and as long as all conditions are met, drive the vehicle. Level 5 vehicles can drive under all conditions and are considered fully autonomous.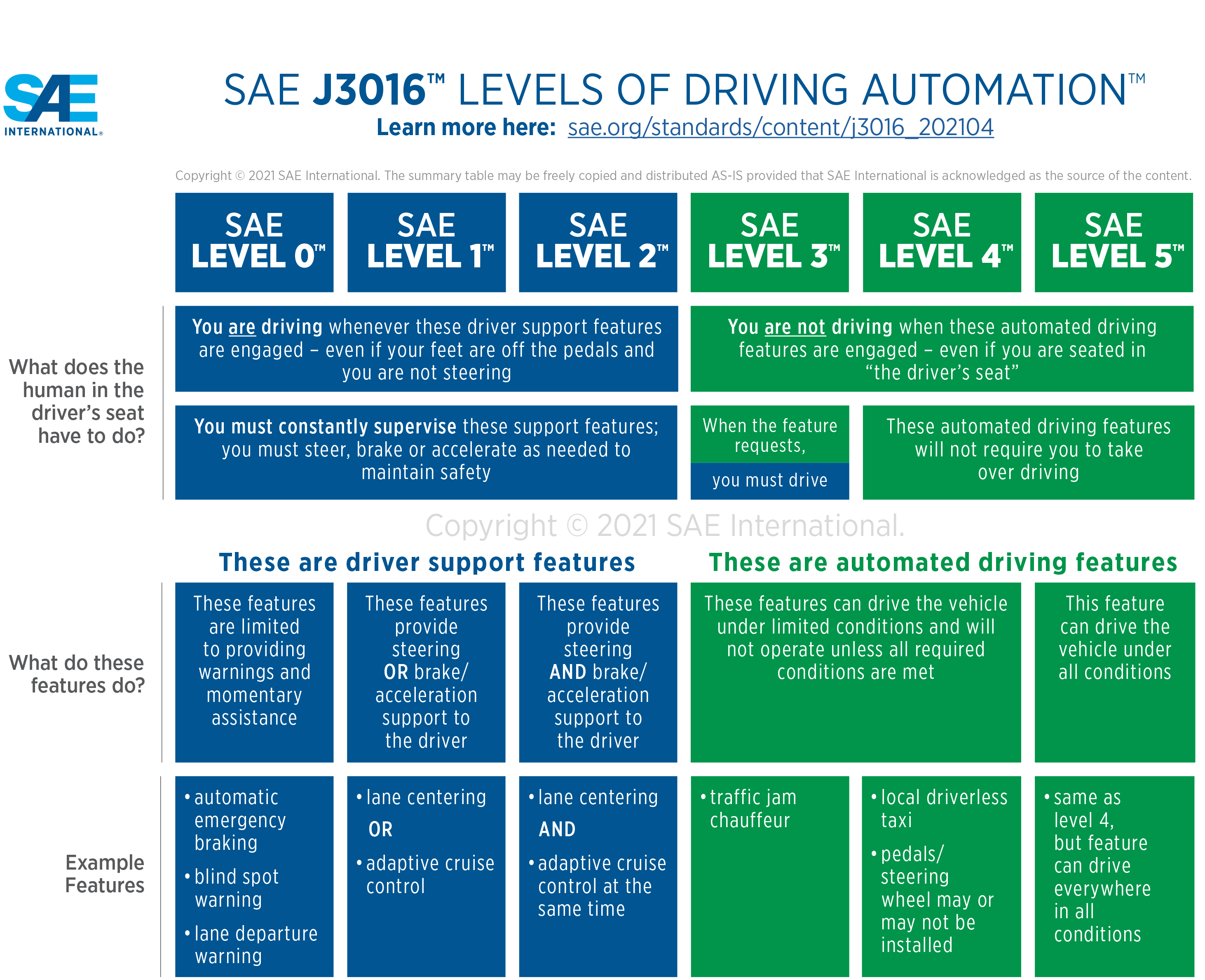 Source: https://www.sae.org/blog/sae-j3016-update
Automated vs Autonomous Vehicles
Ultimately, the amount of human intervention needed indicates whether or not a vehicle is automated or autonomous. The former takes orders and requires some level of human intervention, while the latter does not require humans to intervene.
Automated vehicles are common and feature advanced driver assistance systems (ADAS) applications such as automatic emergency braking, blind spot detection and lane departure warning/correction. Most consumers are familiar with these safety alerts. This is not to be confused with a truly autonomous vehicle that could decide where a car will go, how fast it will travel, and what decisions it will make in real-time along the way, with or without a human present. This technology doesn't exist yet.
For example, Tesla Autopilot is an automated vehicle feature that is causing confusion because of its name. Consumers are getting into accidents because they think it's an autonomous, not an automated, vehicle. It's crucial that drivers understand the difference between the two vehicle types so they know when they need to watch the road and keep it safe.
Driverless Vehicles Today
Self-Driving vs Driverless
According to the SAE, Level 5 vehicles are driverless, while self-driving cars consist of Level 4 and below. Self-driving cars still need a person in the vehicle in case any conditions are not met and need to be manually controlled or overridden.
A driverless vehicle, on the other hand, can fully monitor its surroundings and react safely and appropriately without a human intervening or even in the vehicle at all. Being fully autonomous, these vehicles could effectively replace a driver altogether.
Today, self-driving vehicles primarily include autonomous shuttles and pilots, as well as robotaxis, where a vehicle not only drives itself but can pick up a person without a driver or any passengers present for the duration of its time on the road.
The best example of a Level 4 vehicle to date is Waymo's robotaxi project, which launched quietly in Arizona at the end of 2020. Other companies, such as Daimler and GM, have also made strides in recent months regarding Level 4 self-driving advancements, and Ford and Lyft are nearly ready to launch the biggest commercial rollout of robotaxis to date.
The Advantage of Driverless Vehicles
The Past and Present of Driverless Tech
The transition from Level 4 to Level 5 is still years away. When we finally do reach that milestone, however, the landscape of driving will change in several ways.
The impact of driverless technology is not new. In fact, around 1900, the first automatic elevator was installed to general fear and hesitation from the general public. Prior to this, elevators were operated by liftment who were responsible for running the elevators, greeting guests, and leading tours.
In time (nearly 50 years later), the public grew used to the idea of elevators that moved on their own. After a liftmen's strike on September 24, 1945, the change accelerated with the acceptance of electric elevators becoming the norm. Otis Elevator installed the first fully automatic elevator in 1950 in the Atlantic Refining Building in Dallas, Texas, and by the 1970s, most elevators operated without operators.
Increased Safety
When looking at the long-term impact of switching from manually operated elevators to fully electric, automatic elevators were found to be safer than those operated by humans. Accidents were previously quite common despite the amount of training a liftman would have to undergo. Under human operation, falling cars and pinned passengers would result in injury and sometimes death.
Today, driverless vehicles offer the same potential advantages around safer, more reliable transportation. After traveling more than 6 million miles around the Phoenix area, Waymo reported that there were no incidents of single-vehicle accidents, which are common among human drivers. In addition, of the events that occurred, all noted the other driver/road user at fault in some way under the vehicle code.
While there is still a lot of research to be done, as advancements develop in Level 4, we will gain a deeper understanding and ability to address the safety of Level 5 driverless vehicles.
The Technology to Transform Industries
The ability to impact specific industries is also a crucial advantage to the evolution of driverless vehicles. Trucking, ridesharing, and agricultural use cases indicate that those within these industries are willing to invest in this technology.
A report by Fact.MR on autonomous farm equipment states that the market will be worth $150 billion by 2031. This projection is due to the need for more sustainable foods as populations and environmental awareness increase, the ability for a machine to operate longer and more effective hours than a human, and the ability for a driverless vehicle to react to weather data automatically.
In the world of trucking, companies like Waymo and Kodiak Robotics have been hauling self-driving trucks and testing autonomous technology across Texas and the West Coast for nearly five years. Similar to farming (and elevators), operating trucks can be dangerous and exhausting. Self-driving and driverless technology could help alleviate risk and increase productivity for companies in need of such services.
The Technology to Transform Lives
Announcements of approved driverless vehicle pilot programs in California and the first self-driving vehicle tests happening in busy New York City demonstrate the forward thought companies are putting toward their long-term initiatives in more commercial spaces for personal benefit.
Driverless cars do not only offer convenience. Access to transportation could be life-changing for those with disabilities, the elderly, or individuals and families with a desperate need for a transportation solution. In recent years, there have been several stories on the impact self-driving cars have had on the lives of those who are blind and unable to transport themselves.
LiDAR's Impact on the Future of Driverless Vehicles
LiDAR allows both autonomous vehicles and automated vehicles to maneuver effectively and safely. Today, as we see automated vehicles evolve, we also see the evolution of LiDAR sensors and technology. LiDAR is extremely important for ADAS and higher-level automation as fully autonomous technology is being developed.
To support the autonomous future and technology available in the meantime, Innoviz has designed and developed the InnovizTwo with capabilities for use in higher levels of automation when ready for software updates. By equipping more vehicles with Level 2+ functionality and hardware that supports Level 3 and Level 4 at launch, the industry will be primed for safer and smoother automation adoption.
Learn More About the Driverless Future
Our Team is Ready to Answer Your Questions