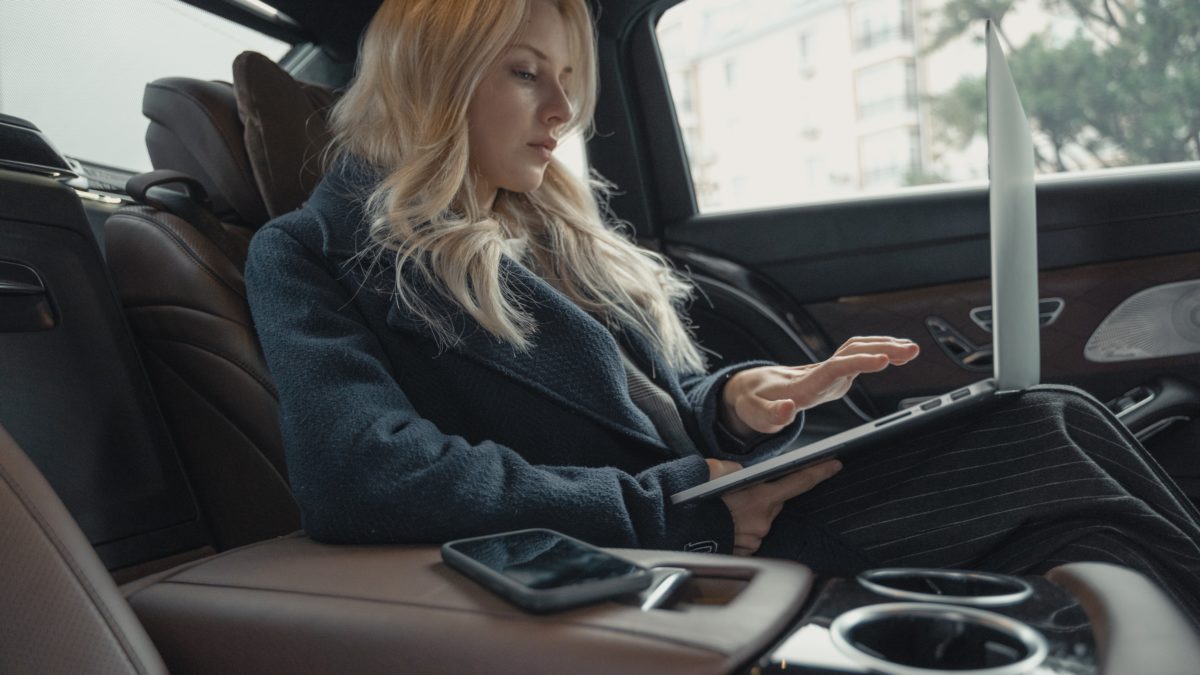 In recent years, laws and policies surrounding technology have emerged and evolved. Constantly advancing technology has changed the way we live and work—from the devices in our hands to machines that operate on land, in the sky, and beyond. These advancements are shaping our future in significant ways.
To better understand where regulations for autonomous vehicles may be headed, it can help to look at what has already been established in similar spaces.
The Modern Technology Law Landscape
Using data privacy as an example, no single comprehensive federal law governs data privacy in the U.S. Because the landscape varies nationally, states may impose restrictions and requirements on businesses relating to the misuse of technology. California, Colorado, and Virginia, for example, have enacted their own state-level comprehensive data privacy laws, while other states vary in what they have enacted, if anything.
In the last decade or so, the need for new laws and policies surrounding technology has become increasingly apparent. Much like how data privacy laws were being considered and enacted as technology advanced in that realm, the same can be said for the current need to address and define autonomous vehicle (AV) laws.
Federal and State Laws
While overarching laws do not currently exist, states are individually considering and enacting bills to support an autonomous future. In the case of data privacy, most recognizable are state laws, sector-specific laws, and medium-specific laws that support and enable greater accountability, transparency, and protection for individuals and organizations alike.
Some of these commonly recognized data privacy laws and regulations include:
Federal Trade Commission Act, which gives the Federal Trade Commission, in addition to the right to enforce federal data and privacy protections, the power to protect consumers from companies seeking monetary compensation through unfair or deceptive practices.
U.S. Privacy Act of 1974, which established the regulation of collecting, maintaining, using, and sharing information. Under this act, agencies must obtain written consent from an individual before disclosing any of their information unless it is part of the 12 statutory exceptions.
Video Privacy Protection Act (VPPA), which bans the disclosure of data or personal information unless a customer is aware and has provided consent. In alignment with newer advancements in video, this act includes streaming services.
Regulations for self-driving cars and autonomous vehicles are following a similar path. As technology for automated and autonomous vehicles advances, more consideration will have to be given to what kinds of laws and regulations will need to be put into place. One by one, states are taking steps to acknowledge the present and future of autonomous vehicles on our roads and in our society.
Establishing Regulations for Autonomous Vehicles
Similar to the data privacy law landscape, there is a mixture when it comes to state and federal autonomous vehicle laws in what is being enacted, if anything at all.
As with anything else, considering and enacting rules and regulations that take proactive efforts are equally as important as reactive measures. This is excellently demonstrated in the current automotive space with automated and autonomous vehicles.
In 2011, the first state to authorize the operation of autonomous vehicles was Nevada. As early as 2012, Florida's legislature passed a bill with the intent to encourage safe development, testing and operation of motorized vehicles with autonomous technology, among other new regulations.
There has been a gradual increase in the number of states considering legislation related to autonomous vehicles over the years, with 15 states having enacted 18 AV related bills in 2018.
Autonomous Vehicle Laws Today
Today, at least 29 states have enacted legislation related to autonomous vehicles. They include Alabama, Arkansas, California, Colorado, Florida, Georgia, Illinois, Indiana, Kentucky, Louisiana, Maine, Michigan, Mississippi, Nebraska, New York, Nevada, North Carolina, North Dakota, Oregon, Pennsylvania, South Carolina, Tennessee, Texas, Utah, Virginia, Vermont, Washington, Wisconsin, as well as Washington D.C.
In addition to state-specific legislation, executive orders related to autonomous vehicles have also been issued by governors in states such as Arizona, Delaware, Hawaii, Massachusetts, and more.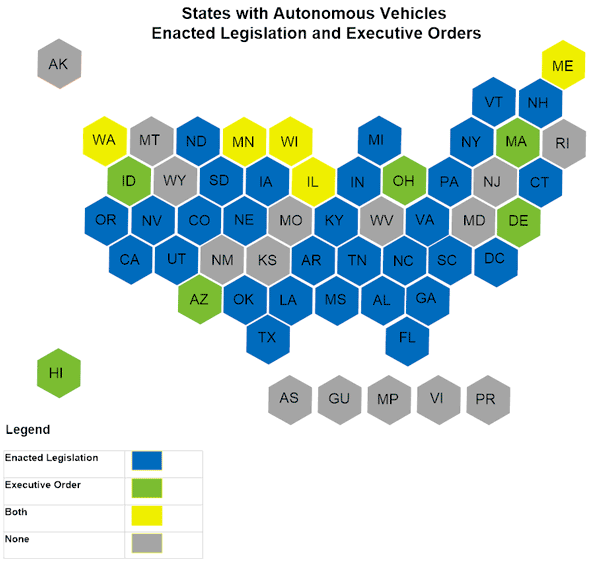 The Future of Regulations for Autonomous Vehicles
The future of autonomous vehicles might be years away, but considerations are being made now to ensure we are ready to address a host of questions when the time comes.
This year, examples of new bills passed include Arkansas's Act 619, which directs the state highway commission to implement laws governing autonomous vehicles. This act established parameters with the Arkansas Department of Transportation. Florida CS/CS/HB 1289 also passed, authorizing low-speed autonomous delivery vehicles to operate on certain streets and roads, with posted speed limits of up to 45 miles per hour under specific conditions, as well as additional requirements.
Since Level 4 and 5 AVs will be able to operate without a driver, topics like vehicle testing and operations, insurance, and even rules around smartphone use while in motion will need to be considered. Looking at how we have evolved and adapted in other areas of technology, it looks like the future of autonomous vehicle law is well underway.
Learn More About the Autonomous Vehicle Future